dragana.m
♫♪~unique~♪♫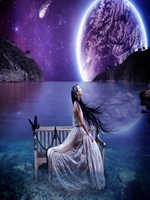 Datum registracije: 19 Sep 2008
Poruke: 9154


---
Vaše misljenje o ovoj dami..... hm



Da li ste je ikad slušali?!


Koje vam se njene pesme sviđaju?!



Sonique Biography: -Childhood and Youth-

Born as Née Sonia Clarke in North London's Crouch End, England on June 21st, 1968 and also raised there. Sonique's formative years were infused with the sounds
of her mum's record collection. Every Sunday the house would be filled with the sounds of Marvin Gaye, Roberta Flack, Gladys Knight, Otis Redding and Denice Williams. "That was the day for loud music, cleaning and nice-smelling food being cooked", she recalls fondly. However, it was her own discovery that was most meaningful. Another record made her crucial experience. "Music is something you're born with," says Sonique. "I've always had this thing in me. The first record I bought was Donna Summer's «I Feel Love», and that was the beginning of my life and my musical experience. It reached a part of me other things didn't reach. I had known then that this is the music I like and I never left" she recalls. But had things been different one defining day during Sonique's teenage years, we may never have heard her own music at all.
From the age of six, little Sonia had serious designs on the world of professional athletics. Still in possession of a superfit physique, Sonique Sonique explains: "I dreamed of being the world's best pentathlete. Trained every single day. I guess I was pretty obsessed. Those were terrifically disciplined days." But, at the age of 15 and having an accident the day before, all that came to an abrupt halt: "I came second in a race", she says matter-of-factly. "Wasn't used to losing." Which pretty much sums up Sonique's life philosophy: Be the best or don't bother. With her music career, she's certainly put that theory into practice.
At the age of 17, a youth-worker told Sonique she had a beautiful voice, it was natural to apply her characteristic determination to making music instead. She has joined a reggae band called Fari which did more than hone her singing skills. "I thought they'd already have some tunes for me to sing", Sonique laughs at the memory, "but, when I turned up the first day, the rest of the band were like, 'So - brought some songs?' They hadn't written a note between them!" Cue a crash course for Sonique in song-writing.
The band was also what kept her going through what was to turn into one of the toughest periods of Sonique's life. Her mum had just returned to her native Trinidad to re-marry. Being the eldest of three with no father figure around, Sonique thought she'd already learned to look after herself and insisted on staying behind. A few months later, circumstances conspired against her and she wound up homeless, surviving on crisps and sleeping on mates' floors and - when those ran out - the streets. "That made me realise life wasn't a joke - I could have died on the street." She figured it was time to take things more seriously and, with Fari disbanded, promptly went about getting herself a record deal.


First Experiences as a Recording Artist

Sonique's career as a recording artist began when she was signed to Sonique Cooltempo Records while still a teenager, resulting in an immediate club hit with «Let Me Hold You». The record entered the top 25 in the Sonique - Let me hold you UK dance charts without any promotion. It was Ernie McKone, an old school-friend with connections to the music industry, who offered to write with her this song. Later, on Bass-O-Matic's debut album Sonique earned a credit for the track «Zombie Mantra». She began writing more songs and was put in touch with Tim Simenon (Bomb The Bass). They recorded some tracks together but, before they could even be released, his mate, a certain Mark Moore, poached her for his own project. However, it was both as the singer and a songwriter for Mark Moore's S'Express that Sonique first entered the limelight, featuring on the minor hits «Nothing to lose» and «Find 'em, Fool 'em, Forget 'em» in 1990 and 1992, respectively. "S´Express needed a singer and a songwriter, so I was asked to collaborate on the album «Intercourse», and I created my own style and identity," she says. "I didn't realize what was happening, but I was proving myself. S'Express taught me I could command a stage and from Mark I really learned how to write - he's a very clever songwriter." After finishing this project Mark lost the interest to continue, so Sonique decided to go it alone. "I didn't know exactly what I wanted to do, I just knew I wanted people to look at me, listen to me, feel me, relate to what I was doing - everything." It was Mark Moore who gave her the first turntables and a mixer too.





Starting a DJ Career

"It was about taking control of my life. A lot people wanted me to sing for them but I wanted to do my own thing and when I saw Mark DJ-ing, I thought it looked so cool and decided, 'I want some of that.' And you know what? I was dreadful!" But, in true Sonique style, that was no deterrent. With the same determination and precision that she applied to earlier achievements as an athlete, Sonique trained to be a DJ for a full three years at home before stepping out in 1994. "I'd seen him do it so I knew it was physically possible", she grins. Sonique "I knew I had to be really good as soon as I started. I am a woman, and I felt people were waiting to laugh at a woman who made mistakes. They wanted to see what I'd do next. Then I broke all records for the rate of success as a DJ. I was pulling in the crowd, making everybody dance. The party would turn into something else." To get work in the highly competitive DJ world, she'd tell bookers about her singing ability. Singing and DJ-ing and being a woman was quite a sensation at the time. "I knew once they'd heard and seen me, they'd want more." And she was right. In January 1995 Sonique got her first engagement as a resident DJ at the London club Swankey Mode which was run by Simon Belofsky. Impressing him and the clubbers by singing on top of the tracks she played, which was unheard of, sparked a friendship between her and Simon. Sonique has since made her mark as a DJ, partly helped by her unique improvised singing over her own uptempo House sets at clubs such as Cream in Liverpool, Gatecrasher in Sheffield, and the notorious Manumission in Ibiza (where she was a resident DJ from 1997 - 1999), but also in Germany, USA, Singapore, Hongkong, Jamaica, Australia, Italy and Norway. This connection with global music fans strengthened her own understanding of what people like and how it effects them. "In England the pop records start at the clubs," she explains. "You hear the mix in the clubs first. Being a DJ helps me to see what people want when they go out partying." Sonique's unique skills are spellbound on a number of UK compilations, including «Introspective of House - Third Dimension» (1997), «Fantazia British Anthems … Summer-
time» (1998) and the Serious/Virgin release entitled «Serious Sounds of Sonique» (February 2000). The latest pearl in this chain is the double CD «DJ Sonique - Club Mix» (street day July 9, 2001). Sonique provided half-an-hour hot mixes on Pete Tong's show on BBC Radio One. She has had the «Full Frontal» show on KISS FM and Skyline Radio London broadcasted live DJ and vocal sets of Sonique.



The Hit Records

In 1997, Belofsky started the record company Serious Records together with the brother of DJ Judge Jules, who was Sonique's school mate once. They put together a recording studio and Sonique volunteered herself to provide their first release, «I Put a Spell on Sonique - I put a spell on youYou» (Cat. No. SERR001T/CD) - a cover version of the Nina Simone / Screaming J. Hawkins classic. To the trio's delight, it got to # 20 in the dance chart and peaked at #36 in the official single chart in June 1998. Surprised by the record's success, "They were like, 'wicked', let's put out another. And they were looking at me ... ", recalls Sonique. Being busy enough with her DJ career, she only had time to point to the piles of her old demos. There they found an about 3 year old recording from when Sonique was in contact with Michael Rank, producer for Kosmo Records in Germany. The tape had original backing tracks made by Linus Burdick, a Kosmo Records recording artist. When Belofsky heard the song, he decided to rewrite the music, although the melody line and lyrics stayed the same. Then followed the proper recordings of the legendary «It Feels So Good», which got released in late November the same year and climbed up to #24 in the UK single chart. This track has grown to a mainstream hit in the US, breaking into the national Top 10, and belatedly gave her a UK chart-topper in May 2000 when re-released. On its first week of release it sold 195,000 copies, compared with the 32,000 total of the
The meaning of the lyrics of «It feels ... »

"Actually the song is not about success at all. I wrote it in a lot of pain", Sonique re-
vealed in an exclusive interview on a trip to India for a concert in February 2001. "It's about this guy whom I really liked years ago, but who didn't return my feelings. For he was very successful and I wasn't - at that time. And he thought that I was in love with his success. This song is just a way of declaring that it was him I liked, it was his way of walking and talking that made me feel so good, not his success." It's typical of Sonique to write and sing from exper-
ience rather than pure imagination. For that's the way she believes music really happens. "You have to experience life to sing about it", she says. "And I like to experience life to the full, even though it's often scary and painful. Finally all humans are the same and one can relate to the experiences of another. So I guess my audiences are moved by my experiences."
Source: www.hindu.com more ...more ...more ...lyrics ...

first time around.
To promote the record across the Atlantic, Simon Belofsky made a deal worth a few thousand dollars with a smaller record company called Caffeine, for the licence in their territory in the US. A club DJ in Tampa, Florida began to spin her song from that import 12" before several other clubs in the US joined in. This led to explosive requests for the song at radio and retail. Other offers started to come in from territories outside the States, such as Benelux and South Africa, and it didn't take long before Belofsky had to buy it back from Caffeine as a considerably better offer reached him from Republic/Farmclub/Universal. A world distribution deal was made, while Serious kept exclusive rights for the United Kingdom. But the success was laced with personal tragedy. As the single blew up and an album deal with Serious was brokered, Sonique lost the baby she'd been carrying at eight months. "The worst, most devastating, awful thing that's ever happened in my life."
As the grieving singer tried to cope with her loss, she was told she had 40 days to start and finish the album. Somehow she managed it, producing what is now one of the most successful dance albums ever: testament indeed to Sonique's talent and determination. Sonique - It feels so good video stillThe budget from Universal included the expenses for the recording of the songs, tours and the recording of a music video clip for «It Feels So Good». The expenses for the video clip alone were 300.000 US$. A second video clip had to be made, because the video made for the original release on Serious was not accepted by MTV, who demanded a higher quality. From the beginning of the recording of the music to the making of the music video and towards the final release in the US, Simon Belofsky and Sonique had been constantly travelling between Los Angeles, New York and London to finish it all of in that record time of 40 days! The album finally came out on February 14, 2000 and went platinum in the UK and Ireland, and gold in Portugal, Spain and Switzerland. Sonique's debut album has now sold over half a million albums in the UK alone. «Hear my cry» went on to become the UK's 42nd best selling album in 2000.
Sonique at Brit Awards 2001 The subsequent singles, «Sky», an ode to her lost baby boy effortlessly debuted at its peak at #2 in the UK single charts in September, and the re-released «I Put A Spell On You», nestled into the top ten at #8 in November 2000. The single «It Feels So Good» became the third best-selling single in 2000. «Sky» and «I Put A Spell On You» became 70th respectively 179th best seller in the UK the same year. Furthermore Sonique was recognised by the Guinness Book Of Records as the first female solo artist to be #1 for 3 consecutive weeks - the first in 22 years since Kate Bush's «Wuthering Heights» in 1978.
With these successful single releases and a UK top ten album in her hand, Sonique topped other respectable nominees like Dido, Jamelia, PJ Harvey and Sade at the Brit Awards 2001. Pictures below showing her performing respectively in the winner's pose after receiving the honour as Best British Female Solo Artist. Sonique was nominated also for Best Dance Act, Best Dance Newcomer, Best Single and Best Video, but other artists won in these categories.



Sonique changes her artist and DJ management

In March 2000, Sonique contacted Eric Härle at DEF Management, as she was interested in working with the same management as Moby. She presented the album to Eric and they decided to have a try out period of three months without commitments.
Up until this point, Sonique had only been managed by a DJ management company, but the recording project had been managed by Sonique and Simon Belofsky themselves. Serious Records lacked a proper management structure, and being managed by a record label is not advisable since it gives rise to a conflict of interest. Härle had followed her career and knew the act well. His company started to straighten out the process of running her diary and taking care of the administrative burden that comes with having a worldwide hit. Suddenly, requests for radio interviews, TV, DJ gigs, showcases etc. came from everywhere at the same time, whilst they also had to arrange follow-ups, remixes and more studio sessions. A more professional management was necessary, in order to make priorities and get things focused, things which can otherwise go wrong in the breaking of a new act.
When finished the deal with Serious and Universal and signed to Kosmo Records in 2004, Sonique left DEF Ltd. for a contract with London's Ultra DJ Management Ltd... .. ..

SONIQUE - It Feels So Good